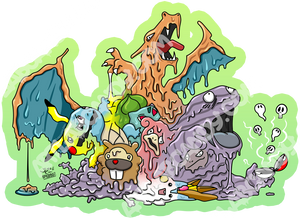 Muk "The Mass" Stickers
Regular price
$4.00
$0.00
Day 88: These Monsters aren't meant to be stuffed into these little containment balls at all but we've done it. I am now experimenting with how many of them can be contained in the same ball.

Day 97: It was a mistake to add Muk to the containment ball, it has begun fusing all the other creatures with itself. The "Mass" as we call it has begun to make sounds loud enough that we can hear them outside of the containment ball.

Day 118: The "Mass" has escaped from it's containment ball, we never thought any of them would have the strength to do so but probably from all the combined powers of each of the creatures it has amassed it is becoming something different. I watched it as it escaped. I hid behind some of the larger equipment. I would not like to know what it would do to me if it had caught it's tormentor.

We must contain "The Mass"! Who knows what it will do if we do not!
This piece is a Collaboration between myself (SpiceBoi) and a good friend of mine Jesse Garcia -- if you'd like to see more of his art you can find it here!

Hand drawn on paper by Jesse Garcia and digitized in Adobe Illustrator and colored by Me (SpiceBoi)!

Hand drawn illustrations colored on Twitch LIVE! That's right, if you ever want to hang out with me while I draw, design or sometimes play video games you can! Come say hi!
---
Share this Product
---
More from this collection